The venerable Texas Moratorium Network blog posted a snapshot Tuesday that surprised me.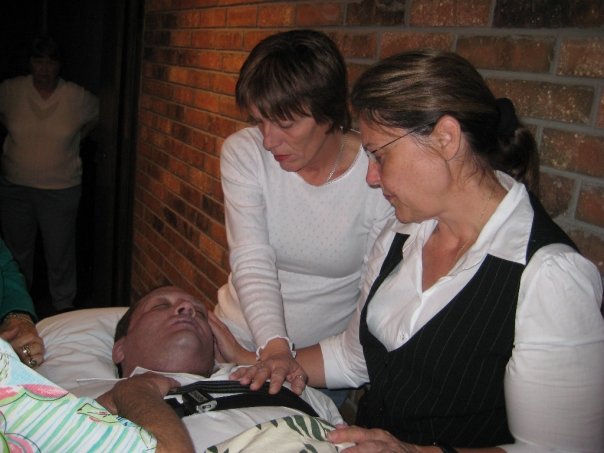 It shows two women standing over a guy. The man, clothed in white, lies face-up on a surface several feet off the floor, his eyes closed and head on a pillow. One woman strokes his face, the other his chest.
The solemn expression of the women; thick, black straps across the man's chest; grayish cast to his face, and fact that he appears to be on a gurney begin to suggest the unusual nature of the photo.
The accompanying text confirms it:
"This photo of Greg Wright 15 minutes after his execution on Oct 30, 2008, in Texas is from Bente Hjortshøj's Facebook page. She is standing on the left. She wrote this caption to the photo:
"'The first time we touched you Greg...you were still warm...you looked at peace...as though you were just sleeping and would wake up soon....it was sooooo hard to see you like this though you were finally free..this is just about 15 minutes after the execution...sooo surreal....BUT dearest Greg.....Me and Connie [Wright's widow, pictured] kept our promise to you and for that we are glad...but it was tougher than we thought.... we did it out of love and respect for you!! LOVE YA LOADS!!!!'
"Bente Hjortshøj has given permission for the photo to be distributed around the internet, 'me and Connie decided to publish all pictures to show the world the cruel and unusual punishment and its horrible consequences.'"
The photo and text are at http://stopexecutions.blogspot.com/.
I'm not sure why the snapshot surprised me. I suppose it's partly because it depicts a private moment I wasn't aware happens after an execution, at least when family and loved ones attend.
I applaud the courage of Wright's survivors in releasing such a personal photo, as well as their commitment to the cause of abolishing a policy that took the life of their loved one. I also commend the Texas Moratorium Network for having the courage and integrity to publish the photo.
Although the picture doesn't offend me, I'm aware my sensibilities may differ from others'. Is it risky to post an image that some potential – and even current -- opponents of the death penalty might find offensive or shocking?
Readers, if you have the time, I'd appreciate your comments.
For those who called up the photo, what was your immediate reaction so seeing it? What are your thoughts about circulating a photo of the body after an execution? Should it be done regularly? Not at all? What sort of impact might it have?