Death penalty agitation takes different forms in U.S., Europe
blogadmin | 14 October, 2010 17:16
The ink is still drying on the European Union's resolution Friday reaffirming their commitment to worldwide abolition of the death penalty.
You might call it a top-down approach from a part of the world that equates capital punishment with barbarism. In Texas, opposition to capital punishment comes from the bottom up. But there's a lot percolating these days.
Along with tomorrow's launch of the Journey of Hope visit to Houston, anti-death penalty activists are planning the 11th Annual March to Abolish the Death Penalty for Oct 30. Protesters will mass on the Capitol steps in Austin, expressing their opposition to a form of punishment that has increasingly isolated the U.S. and Texas in world politics.
With so many death penalty stories in the news, organizers predict a good crowd. Last year's march was the largest since the annual protest began. I can confirm the crowd was big; I was there. People who had lost family members to the Texas death machine were effective, passionate speakers about the juggernaut the Texas death penalty has become.
They'll be in Austin again Oct. 30, along with Journey of Hope speakers who have lost relatives to murder and still oppose the death penalty -- even for the people who took the lives of their loved ones.
Surviving family members in a murder don't arrive at their anti-death penalty stances lightly. I know, because my cousin, Gary Stein, was murdered while a scholarship undergraduate at Yale.
None of the half-dozen young men who participated in his fatal mugging – for Gary's watch, no less -- was executed for his murder. I'm fine with that. His murderers deserved to be brought to justice, and they were. Putting to death even one of them wouldn't have brought the "closure" prosecutors are so fond of invoking when they seek the death penalty. I believe an execution would only have been a grotesque reenactment of the crime that took Gary's life.
I still wish my cousin Gary were here. But I don't wish for the death penalty. I wish for its end, in Texas and around the world. Be it resolved.
Editor's Note: This piece first came out as a news commentary broadcast Oct. 14, 2010, on Pacifica Station KPFT Houston, 90.1 FM.
Exposing myth of death row's 'worst of worst'
blogadmin | 31 August, 2010 11:36
Texas death row inmate Martin Draughon greets his mother in a visit.
Photo by Ken Light, Copyright 1999
(Editor's Note: Paris, who spent years on death row before being exonerated, wrote this in response to an op-ed piece in the Houston Chronicle earlier this month by NYU Professor David Garland about five myths that dominate the death-penalty debate. In this blog, Paris describes a sixth myth that dies hard: death row is occupied by criminals who are "the worst of the worst.")
To whom it may concern:
The idea that the worst of the worst are the ones under the gun, so to speak, on death row is laughable to anyone in our prisons. The death penalty is reserved for those too dumb to get out of the way and mental defectives, which may be the same thing in most cases.
The men on the row do not really frighten other inmates much, but often the gangs do. Reaching the one in control of criminal activity can't be done in most cases because they do not do their own dirty work. The smart ones who are caught negotiate a deal of some kind with prosecutors. When multiple suspects are arrested, there is a footrace to get to the man first.
For men in prison, the worst thing that can happen is not dying. There are many things far worse, and those things are feared by inmates on and off death row.
I once heard a man describe, almost lovingly, what he would do to another inmate if the other inmate did not do what the first one wanted, as a method of intimidation. The scenario involved the other inmate living the rest of his life locked in the shadows of his own skull without the ability to hear, see, or act in his own behalf for the rest of his life: blind, deaf, no useable arms or legs, complete with genital mutilation to deny the last chance of pleasure. To men who understand sensory deprivation as practiced by the state, understanding the possibilities takes very little imagination at all.
We have made our prisons into jungles beyond the imagination and peopled them with cripples handmade by society. The saddest part is how society looks down from its self-satisfied perch in silly supremacy, taking no responsibility for the child of indifference and systematic abuse, pretending they've made their own beds and now must sleep in them.
I know these truths.
Paris, ex-death row, free with my memories


Peter Cantu to be put to death Aug. 17
blogadmin | 15 August, 2010 23:26
Peter Cantu


By Elizabeth Stein
Texas plans to kill Peter Cantu Tuesday by lethal injection -- the 16th execution this year in the nation's busiest death chamber. Execution Watch will provide live reports from outside the building, along with a discussion of the issues and an interview with the author of Capital Punishment on Trial, Pulitzer Prize-winning historian David Oshinsky.

RADIO PROGRAM PREVIEW
EXECUTION WATCH
Aug. 17, 2010, Tues., 6-7 pm Central Time
Listen on KPFT's HD2 channel, 90.1 FM Houston, or …
Go to www.executionwatch. org at 6 p.m. CT, click on "Listen."

SCHEDULED TO BE EXECUTED
PETER CANTU, 35, was one of several teens convicted of raping and killing two Houston girls in 1993. Cantu and four companions received death sentences. Two have been executed; two had their sentences commuted to life after the U.S. Supreme Court barred the death penalty for those under 18 at the time of their crimes. The slayings led to a Texas law allowing victims' families to view the execution of murderers. International controversy erupted around the 2008 execution of co-defendant José Medellín when it was revealed he was not notified of his right to meet with Mexican consular officials after his arrest. (More at www.executionwatch.org > Backpage on Peter Anthony Cantu.)

SHOW LINEUP
Host: RAY HILL is an ex-convict who has lost many friends to the death chamber. His civil rights activism has included shepherding several cases to the U.S. Supreme Court. Ray also hosts the Prison Show, now in its 31st year, www.theprisonshow. org .

Legal Analyst: JIM SKELTON, a retired attorney, contributes to the profession by teaching a weekly continuing education class in appellate law. He has worked as a prosecutor and as a defense attorney in capital cases.

Featured Interview: DAVID M. OSHINSKY, a Pulitzer Prize-winning historian, holds the Jack S. Blanton Chair in History at the University of Texas at Austin and is the Jacob K. Javits visiting Professor at New York University. He recently published Capital Punishment on Trial: Furman v. Georgia and the Death Penalty in Modern America. Oshinsky's other books include Polio: An American History, which won a Pulitzer in 2006, and Worse than Slavery: Parchman Farm and the Ordeal of Jim Crow Justice, winner of the Robert F. Kennedy Book Prize. (More on his latest book at www.kansaspress.ku.edu).

Reporter, Death House, Huntsville: DENNIS LONGMIRE, professor in the College of Criminal Justice at Sam Houston State University, Huntsville, and longtime activist against the death penalty (www.cjcenter.org).

Reporter, Vigil, Houston: DAVE ATWOOD, board member and founder of the Texas Coalition to Abolish the Death Penalty, and author of Detour to Death Row. (www.tcadp.org).

NEXT SCHEDULED EXECUTION
On Oct. 14, Texas plans to execute GAYLAND BRADFORD. Execution Watch will broadcast. Details at www.executionwatch.org.

PRODUCER: Elizabeth Ann Stein, eliza.tx.usa @gmail.com.
TECHNICAL DIRECTOR: Otis Maclay, omaclay @gmail.com.
THEME MUSIC: "Death by Texas," Victoria Panetti, www.myspace. com/shemonster
New image of Texas: a governor, a gurney, a needle
blogadmin | 23 March, 2010 17:22
Image can be an transitory thing. Not so for Texas, with its enduring image of cowboys and cattle drives. Until recently.
International attention has zeroed in on Texas as the death penalty capital of the democratic world, with its record under Gov. Rick Perry and predecessor George W. Bush of carrying out half of the executions in a country that stands out as the sole democracy using capital punishment.
Even more disturbing is the image Texas has acquired from cases like that of Henry Skinner, scheduled for execution tomorrow despite untested evidence that might prove his innocence. His planned execution comes amid unresolved questions about Todd Willingham, whose execution in 2004 for arson murder has been condemned by experts as based on junk science.
There are others whose probable innocence troubles even those who had a hand in their executions, like Ruben Cantu and Carlos de Luna.
Until the Lone Star State either pursues justice more rigorously than executions or does away with its death penalty as too expensive, ineffective and error-prone, it must live with a new, emerging image: that of its titular head beside a white gurney occupied by a prone individual.
It might look like the inadvertently symbolic picture below, found on an official website of Gov. Perry's. Blur the face of the occupant and put a hypodermic in Perry's hand. You'll have the unfortunate new image of Texas.
Rodeo no competition for Judge Fine's court
blogadmin | 06 March, 2010 11:43
The throngs visiting the Houston Livestock Show and Rodeo are missing the best show in town. If I were them, I'd consider hopping on the MetroRail and heading for the Harris County Criminal Justice Center, where Judge Kevin Fine is causing a bigger ruckus than the Xtreme Bulls competition.
The jurist was in a spotlight brighter than Kenny Chesney's Thursday after ruling favorably on a motion in a low-profile murder trial. Why all the fuss? Fine's ruling made the death penalty illegal in the jurisdiction of his 177th District Criminal Court.
Beneath the robes: Judge Kevin Fine
I'm sorry I missed Fine's special session the following day in which he explained his ruling. The next best thing is the raw footage of his 12-minute statement, at http://abclocal.go.com/ktrk/video?id=7314442.
"Based on the moratorium in Illinois, the Innocence Project and more than 200 people being exonerated nationwide, it can only be concluded that innocent people have been executed," Fine said. "It's safe to assume we execute innocent people."
Fine agreed with defense attorneys for Edward Green Jr. that the Texas law governing instructions to a jury violates the Eighth and 14th Amendments of the U.S. Constitution, which prohibit cruel and unusual punishment and guarantee due process.
His decision came under fire for flauting existing case law, but he pushed back, saying, "There is no precedent to guide me in resolving this particular issue."
Fine praised the integrity of Harris County District Attorney Pat Lykos, whose office is seeking the death penalty in Green's case. The basis for his ruling, he said, is his role as a trial judge to be a gatekeeper for society's evolving standards of decency and fairness.
The next time to be on the 19th floor of the Criminal Justice Center where Fine presides may be on Wednesday, when he is expected to rule on prosecutors' motions that he reconsider his ruling.
Meanwhile, I'm sending him a mash note:
Dear Judge Fine:
As of today, I'm proud to be a Houstonian. Thanks to you, I can point to incontrovertible evidence that at least one jurist in my city has moral courage and the intellectual wherewithal to use it wisely on the bench.
Anyone who thinks Gregg v. Georgia has corrected the random and capricious application of capital punishment in the U.S. ignores the shameful, overwhelming evidence that race and class remain the only valid predictors of who we condemn for murder.
Thank you for being brave enough to point out the emperor's lack of attire. I'll be following the aftermath avidly.
Sincerely yours,
Elizabeth Ann Stein
Senior Producer, Execution Watch

P.S. With the Rodeo in full swing at the time of your ruling, I'm reminded of something Mark Twain said: "It is curious that physical courage should be so common in the world and moral courage so rare."
Perry wants execution errors to go away as primary looms
blogadmin | 12 February, 2010 15:42
No one can say Texas Gov. Rick Perry isn't a traditionalist.
He's treading a time-tested path in responding to tough questions about an execution carried out on his watch -- Delay!
Whether Perry's tactic diverts voters' attention long enough to ensure his nomination for governor may depend in part on a campaign by death penalty opponents to keep the issue front and center.
Perry's shakeup of the state Forensic Science Commission, including installation of a political ally as chairman, was designed to put off until after the March 2 primary potentially damaging disclosures about dated arson-investigation techniques that sent Todd Willingham to the execution chamber in 2004 for a fatal fire that might have been accidental in origin, as Willingham claimed all along.
The governor's hand-picked chairman has used bureaucratic bullying to keep the commission from taking up an independent report it commissioned about forensic techniques used in the Willingham case. Chairman John Bradley finally promised scientists they will discuss the Willingham report, but not until it was clear it wouldn't happen before their next meeting -- April 23.
By then, Perry hopes to have lulled voters into a false sense of confidence in him long enough to deflect Sen. Kay Bailey Hutchison's challenge for the Republican gubernatorial nomination.
Among the groups working to spoil Perry's plan to bury voters' heads in the sand is the Texas Coalition to Abolish the Death Penalty, which seeks to keep the Willingham case in the headlines during the weeks leading up to primary.
The coalition is calling for a statewide day of action against wrongful convictions and executions on Wednesday, February 17, the six-year anniversary of Willingham's execution.
"Serious questions surround the circumstances of the fire that led to the deaths of his three young daughters in 1991," says Kristin Houlé, executive director of the Austin-based coalition. "Nine fire experts -- including one hired by the Texas Forensic Science Commission -- have examined the case since the time of conviction and determined that the evidence did not support a finding of arson."
As if the Willingham execution anniversary weren't enough to remind voters Perry has shown a disregard for human life in presiding over a record number of executions as governor, an execution is scheduled Feb. 24 for Hank Skinner, who is believed by many to be innocent and whose efforts to obtain additional testing of DNA evidence has been staunchly opposed by the state.
Hank Skinner, scheduled for execution Feb. 24, has broad support for his claim of innocence.
The coalition is urging people across the state to call attention to Skinner's and Willingham's cases Tuesday by contacting legislators about the fallibility of the death penalty; writing to Gov. Perry and the Texas Board of Pardons and Paroles to urge clemency for Skinner; writing letters to the editors of local newspapers calling for an end to the death penalty, and posting comments in online forums in response to articles about Willingham and Skinner.

The need to call for a special day to publicize evidence of unfairness around the death penalty adds weight to the argument that the death penalty is an instrument not of justice but of politics.
Perry's fall partner continues chokehold on forensics panel
blogadmin | 29 January, 2010 15:36
I've been following by live webcast the meeting of the Texas Forensic Science Commission today in Harlingen. If commissioners were meeting any farther from Austin, they'd be in Mexico.
How ironic that Texans must rely on a webcast by the New York City-based Innocence Project to follow the suddenly far-flung activities of a state commission that, until recently, has operated in an accessible manner.
Gov. Rick Perry's fall partner, new commission Chairman John Bradley, continues to use a combination of legerdemain and hubris to hijack the commission, thwart the Legislature's intent, and prevent completion of the commission's investigation into the science that led to the execution of Todd Willingham for arson-murder convictions in a fire that may not have been deliberately set.
Texas put Todd Willingham to death six years ago for arson-murder convictions that were recently called into question by a state panel's probe that has been stalled by Gov. Perry's machinations.
Ignoring the unfinished business of the Willingham case, Bradley spent several hours today browbeating commissioners into approving a set of rules he wrote without their input. As if to confirm the process was delaying tactic, he admitted the commission does not have rulemaking authority and referred to the rules as "policies and procedures" that are "not even enforceable on ourselves."

Bradley's performance evinces a lack of respect for commissioners, taxpayers, legislators, and sham-science victims that is so broad in impact, it approaches the criminal.

I wonder what it will take for the Texas Legislature to call Perry's surrogate to task for his outrageous actions and get the commission back to its important work?

Perry may be in a tough primary fight, but that does not confer on him new constitutional powers to, in effect, replace the head of a commission with his co-conspirator in order to override the authority of the legislative branch and prevent voters from hearing the likely but politically inconvenient conclusion that an innocent man was executed on his watch.
On the other hand, if Perry isn't challenged effectively, those powers are, de facto, his.
Orwell would appreciate judge's approach to letting fellow judge off the hook
blogadmin | 20 January, 2010 18:54
The ruling today in the ethics case against Judge Sharon Keller reads like an Orwellian primer for closing ranks.
In a stunning display of Newspeak, a hearing judge declared it mostly the fault of uber-attorney David Dow's team that their client was executed as scheduled in 2007, and not the fault of Texas' most senior criminal court judge, who blocked them from filing a motion to spare his life because it would have been minutes late.
Sharon Keller
In his decision, District Court Judge Judge David Berchelmann Jr. of San Antonio threw out state Judicial Conduct Commision charges against the still-defiant Keller, finding she did not break any rules -- even unwritten ones.
Berchelmann was the special master for hearings last summer that examined the commission's accusations that Keller's behavior in refusing to remain open late for a motion to stay the execution of Michael Richard "constitutes incompetence in the performance of duties of office" and "casts public discredit on the judiciary."
After taking weeks of testimony under advisement, Berchelmann proved himself a master translator of English to Newspeak, the language from George Orwell's 1984, in which a totalitarian government mandates a new tongue that promotes the expression of approved thoughts and lacks the capacity to communicate forbidden ones.
The strong language of the commission in charging Keller proved no match for Berchelmann's mastery of Newspeak:
Keller's refusal to keep the court open so lawyers could plead for Richard's life was, at worst, a "highly questionable" behavior. The incompetence and discredit the commission alleged are really a mild disagreement between Keller and colleagues, told philosophically they have "valid reasons" if they are "not proud" of her actions.
Such a translation might impress Orwell himself. But the futuristic elucidation by Berchelmann -- a former member of the Court of Criminal Appeals -- cannot alter the subtext that roils like algae beneath the surface: Judges, like cops, are susceptible to closing ranks behind a colleague under fire, even when the criticism is well deserved.
His wet kiss for Keller where a less polite gesture is demanded adds to the landfill-sized heap of evidence that public servants at every phase of the criminal justice system must be scrutinized constantly for evidence they are unethically putting their small, personal interests above the overarching interests of jutice.
Dark days for watchers of Texas death penalty
blogadmin | 26 November, 2009 20:56
Thanksgiving Day 2009
I found a message in my inbox from a dear friend whose loved one, a law-of-parties prisoner on Texas Death Row, is uncharastically depressed. I can relate, because I have been depressed about the latest round of executions.

For me, Khristian Oliver's -- three weeks ago today -- was among the toughest to take in. The evidence indicated he killed someone. But the devil is truly in the details.

Oliver, who was 20 at the time, went with several juveniles to break into a farmhouse in East Texas. The farmer came home unexpectedly, grabbed his gun, cornered Oliver and one of the juveniles as they tried to flee, and shot the juvenile. Oliver returned fire, hitting the rancher, and then beat him. Oliver's crime was terrible, but it was far from the worst-of-the-worst murders the public imagines antecede the death penalty.

Cases like Oliver's convince me that, if Texans were constantly confronted with the unfair, arbitrary way the death penalty is administered in their names, even those who support capital punishment in the abstract would disavow Texas' system immediately. Hence, Execution Watch.

I sensed all of us at Execution Watch were in some level of shock that we did a show last Thursday. Like many observers, we thought Robert Thompson would get a stay. Gov. Rick Perry's refusal to grant clemency to Thompson, a law-of-parties defendant who was factually innocent of a murder in which the guilty party got life in prison, set a new standard for executive inhumanity.

When Perry's decision came down, I was still recoiling from the execution the previous day of Danielle Simpson. There's no doubt his crime was awful. Another interrupted burglary case, it involved the horrific abduction-murder of an elderly homeowner. But Simpson was so clearly mentally ill, the district court judge who heard his request to drop all appeals wrote that Simpson had "a mental disease, disorder or defect."

Executions scheduled during the next few months will be no easier to abide:

-- Bobby Wayne Woods, Dec. 3, retarded to the point of childishness.
-- Kenneth Mosley, Jan. 7, represented by ineffective counsel and condemned for a killing that resulted from a struggle for Mosley's weapon. Were the victim not a police officer, it might have been prosecuted as manslaughter.

-- Gary James Johnson, Jan. 12, who received the death penalty for two killings that occurred in another burglary-gone-bad in which his fall partner, who is also his brother, escaped the death penalty by testifying against him.

-- Hank Skinner, Feb. 24, a likely case of actual innocence containing many of the same elements of small-town prejudice and ignorance that made Todd Willingham's story so disturbing.

-- Franklin Alix, March 30, convicted on evidence later called into question by HPD crime lab investigators, who found that analysts failed to report exculpatory findings and claimed tests that did not implicate Alix were inconclusive.

These are the people being executed by my state? It's a struggle to sustain equanimity in the face of such cruel, capricious use of a penalty that is so ineffective and subject to error, it has no place in our code of laws.

I can understand why a person on death row -- even one whose case sees like a good candidate for commutation -- would feel discouraged lately. It's one of the things we have in common. I hope our mutual despair over the death penalty will be transformed into purposeful action. I know it should.
Blog will return after spam abates
blogadmin | 25 November, 2009 14:52
The Execution Watch blog is meant to be a two-way discussion. Spam attacks to the Comments and Trackbacks sections have forced us to suspend publication. Once we've successfully blocked the spam, the blog will resume.
Meanwhile, listen to Execution Watch at 6 p.m. Central Time any day the state of Texas puts someone to death. Schedule: http://www.tdcj.state.tx.us/stat/scheduledexecutions.htm.
Execution Watch broadcasts coverage and discussion of the many legal and moral issues that attend capital punishment, on KPFT FM 90.1-Houston, HD2, and on the internet. Go to www.executionwatch.org at 6 p.m. Central Time the day of the execution and click on "Listen."
Thank you for your patience, support and understanding.
The Day I Helped the U.S. Explain the Death Penalty to Europe
blogadmin | 15 February, 2009 00:28
Have you ever wondered what the U.S. would say if forced to defend the death penalty to Europe and other regions that have outlawed the punishment as barbaric?
Wonder no more.
Kyle Scott, charges d'affaires of the U.S. mission to the Organization for Security and Co-Operation in Europe, recently delivered a formal response to the European Union's statement of concern on America's use of the death penalty.
Kyle Scott, left, charge d' affaires of the U.S. mission
to the OSCE. At right, German Ambassador Heiner Horsten.
The statement, delivered Feb. 12 in Vienna, went, in part, like this: "We would like to thank the European Union for its routine expression of concern regarding the death penalty in the United States.
"As we have stated on many occasions here in this forum, the use of the death penalty in the United States is a decision of democratically elected governments at the federal and individual state levels. It is not prohibited by international law, nor does capital punishment violate any OSCE commitments. The people of the United States, acting through their freely elected representatives, have chosen, in most states, not to abolish the death penalty.
"The U.S. judicial system provides exhaustive protections to ensure that the death penalty is not applied in an extra-judicial, summary or arbitrary manner. The U.S. Supreme Court has repeatedly held that capital punishment itself does not violate the U.S. Constitution. Capital punishment may only be carried out subject to the extensive due process and equal protection requirements, and after exhaustive appeals.
"And I would also point out, as we have on numerous occasions, that capital punishment continues to be the subject of vigorous and open discussion among the American people.
"Madame Chairwoman and fellow delegates, while we very much respect the importance that the European Union attaches to this issue and the passion with which they hold those views, we would ask that the European Union's passion not overtake their checking of facts."
The Way Things Work
Scott went on to defend specific state actions in death penalty cases and sum up the way things work in the U.S.: "(T)he United States is a country governed by the rule of the law."
As sincere as Scott may have been in responding to the EU's statement, certain omissions left me concerned that non-Americans would still have an incomplete picture of the death penalty in the U.S.
So I did what any good American would do -- what President Obama would want me to do. I pitched in.
A busy person like Scott surely hasn't the time to clarify and amend things he said days ago, so I resolved to assist him on a volunteer basis by emailing the current president of the European Union, Czech Prime Minister Mirek Topolanek, just to fill in a few holes.
Mirek Topolanek, Czech Prime Minister and
current European Union President
My email went, in part, like this: "Many Americans agree wholeheartedly with you that the death penalty should be abolished.

"I felt compelled to write after reading the confusing statement made Thursday by U.S. Mission to the OSCE Chargé d'Affaires Kyle Scott in response to the European Union's stated opposition to the Death Penalty.

"Mr. Scott said, 'The people of the United States, acting through their freely elected representatives, have chosen, in most states, not to abolish the death penalty.' While this is technically true, it hides the fact that, of the 38 states that permit the death penalty, 23 did not execute a single person this year or last.

"His statement is also misleading in its implication that a majority of citizens in death-penalty states support capital punishment. This is not necessarily so. Exonerations of people on death row, revelations of poor representation and prosecutorial misconduct, and lack of sound evidence that it deters crime have caused Amercians to lose faith in capital punishment, according to a recent survey, which found that 58 percent believe it is time for a moratorium on the death penalty while the process undergoes a careful review.

"Lack of confidence in the death penalty is likely to be higher now. The poll was taken in 2007, and sentiment against it has deepened since then.

"A survey in the death penalty state of Colorado found recently that 63 percent of citizens believe that the three million dollars the state spends per year on the death penalty would be better used to close unsolved murder cases.

"Legislative initiatives to ban or suspend the death penalty are gaining ground in a number of state legislatures.

Even in Texas
"Even in states like my own, Texas, where a majority of citizens voice support for the death penalty, I believe the support is shallow at best, especially among citizens who possess information about the often arbitrary and unjust way in which it is imposed.
"Mr. Scott's assertion that, '(t)he U.S. judicial system provides exhaustive protections to ensure that the death penalty is not applied in an extra-judicial, summary or arbitrary manner,' is true only technically. In many cases, those protections are ineffective because of the way they are, or are not, applied, or because they are undermined by the federal Antiterrorism and Effective Death Penalty Act of 1996.
"The AEDP was supposed to streamline what critics regarded as frivolous, interminable appeals of death sentences. Since it went into effect, however, the law has been the target of bitter criticsm from attorneys for death row prisoners who have been hindered or prevented from introducing exculpatory evidence because it came to light too long after a prisoner's trial.
" 'We would ask that the European Union's passion not overtake their checking of facts,' Mr. Scott admonished in his response. Perhaps it is Mr. Scott who should exercise caution, lest his passion for presenting the U.S. government's point of view overtake his providing all of the relevant facts."
I hope Kyle Scott doesn't feel obligated to recognize or thank me in any way for adding to his statement about how the death penalty works in the United States.
It's all in a day's work for any patriotic American.
Witness to an Execution: 'Did I Say Good Bye to Reggie? I Will Never!'
blogadmin | 03 February, 2009 14:35
By Myriam Stubbe
Guest Blogger
On the 22nd of January I witnessed the legal murder of Reginald W. Perkins.
I know it sounds surreal because an execution cannot be a part of my life. That awful deed cannot take place in a civilized country, can it ?
On the morning of January 22nd, we shared our very last visit.
Reggie was maybe a little bit more tired, maybe he had not that hearty appetite he had always, maybe there were more silences than usual, but words were not so much needed. There's a time for words and a time for silence.
That morning was a time for silent connection most of the time. Maybe also I was trying to grasp each minute for memory … maybe, maybe.
Still Reggie was as he was always, kind, smiling and worrying for me.
How should I face the end of the day? He was not really believing me when I said that I would be okay. I was crying, drops of rain.
Eleven fifty-five a.m. came too early, so much too early. The escort didn't really give me the time to say "see your later". I was quickly escorted to the parking. I didn't say a word but tears were streaming down my cheeks.
My friend Sylvia was awaiting me, and we drove together to Huntsville to the Hospitality House where we had to await till 5:00 p.m.
I knew Reggie would call there.
He called at 2:00 p.m. We talked a little, and he said that he had to call his family and would call me back before 5:00 p.m.
The four chaplains explained very precisely the procedure. It was like a bad dream but I knew it had to be done. There's no place for wavering in what I was going to live through. It would have opened the door to a breakdown. They were helpful and compassionate.
At 4:25 p.m., Reggie was on the phone and we talked for about 25 minutes. Sometimes Sylvia took the phone but it was only for a very little time.
Reggie had tried to phone his family in Texas, but all he got were voicemail recordings. None of them gave him the favor of a last word, the little bit of love he needed so much. Was it too hard for them? Were their hearts that full of rejection? How could I know? The only thing I know is that he was deeply hurt. Luckily he could talk to his two daughters in Ohio. At least he could hear the voices of family members on the very last day of his life.
At 4:50 p.m. time was up and we said a very quick "bye bye" knowing that the next time we should meet he would be in the shameful death chamber and in the hands of the executioner.
Sylvia and I left for the TDCJ building at the front of the Walls, on the other side of the street. We were searched and immediately after the search we met one of the chaplains. He told us that Reggie didn't want to die but was ready to die and that he was in peace.
At 5:00 Reggie had again claimed his innocence to a reporter of the Associated Press.
Anyone looking in Reggie's eyes when he said his innocence knew that he was not lying. Looking in his eyes, hearing his baritone voice claiming his innocence and still thinking he was guilty would have been blasphemous. I know it deep in my heart.
At 6:05 the guard came to escort us to the witnesses' room. II knew at that time that there was no more hope and that I would have to shake my head making a "no," because Reggie wanted to know the reality of his fate only by me.
I don't remember if the weather was nice or not, if the birds were singing or not… those funny birds that are always flying joyfully in the sky above the room where men murder another man ….
I remember that I walked like a robot, or was I told that later?
For nothing in the world would I have made a spectacle of myself in front of the inscrutable faces of the TDCJ officers. We entered the building and had again to wait in an office. I had lost track of the time but had in the same time a kind of clock ticking in each pore of my skin. That awful, horrible clock that comes at the worst times of our lives to tell us, "It's over."
Two reporters were there … speaking about nothing and everything ... like they were in a tea-room … Blasé young people ?
They said we had to go. We went in a very small garden and on the left side at the end of the wall was a door, We entered.
It was so small! The death chamber was so small as well. Reggie was on the gurney.
When he saw us, he had one of those radiant smiles that belonged only to him. "Hey there!"
I ran to the window, put my hands on it and smiled to him the same way … just as if I had forgotten "where" we were and "what" they were doing. We just were smiling to each other in a brief flash of time … Life was still there.
He, who never wanted to wear his glasses, was lying on the gurney with his glasses , and I suddenly remembered that in the morning I had told him how much he was good looking (like a professor) with his glasses.
Reggie turned his head to the victim's witnesses. He had already said his last statement one hour before and was not ready to really speak anymore, but he looked at them and I heard him saying ,"Hey, you over there, Love you"…There was no more smile in his eyes … I read in his eyes, "You wanted me here, you have me here and I am not guilty. Why did you do that to me?" Then he looked again to Sylvia and me and spoke his love, "Girl, love you, take care."
He closed his eyes and we heard three groans … I was crying, tears running on my cheeks, whispering "please go away very quickly, please go away very quickly, please do not suffer !"
Silence was now so heavy … I knew life had faded.
The doctor came and said "06.24 !" and my own heart stopped beating for a few seconds.
We left, it was so astounding to see that the buildings were still there, also the trees … Everything seemed to still be the same.
Was it twilight ? I can't remember, maybe it was ... Anyway twilight was in me …
But it was not the "same" because I will never be the same anymore even if my faith in the human being's perfectability is still alive.
Texas again had murdered a man in the name of its citizens, in the name of the world's citizens … Texas again was unworthy to be called "civilized"… Nothing had changed except me.
Killing Reggie, they had killed something in me as well, in Sylvia, in Bonnie, in each and every friend he had. I felt empty, I felt "amputated." There are no words to say the hurt, the anger, the revolt.
We went back to the Hospitality House where they gave me his properties and we drove, Sylvia and I, to Huntsville Funeral Home. Everything was closed even though they knew we were coming. Reggie was in the chapel; we could see him through the window of the door.
Reggie had always been very funny and he made jokes of everything ... Between my tears I saw Sylvia knocking on the door saying, "Come on Reggie, let them know we are here."
It took such a long time before someone came and opened the door. For the first time we could hug him … I still don't know how I could walk, speak or even breathe.
The day after, I could spend the whole morning with Reggie at the Brooke funeral home where everything had been done to help and comfort me.
Did I say good bye to Reggie? I will never! Nobody who has known Reggie can say good bye to him … "Till later," Big Daddy.
On the 28th of January a letter came to me. He had written it very early in the morning of his execution's day.
He asked me to please not grieve because they just killed his body but never his spirit, that I had to be very strong and never let what happened to get the best of me. That on the contrary I had to continue the fight to clear his name and to fight for abolition and to live life at the fullest because life is God's gift.
Texas murdered a good person. It seems that a member of his family said after the execution that she had awaited for that for 8 years and was proud to live in a state where "justice is served"… Which justice? Retaliation? Hate? Legal lynching? It seems that there's still a tremendous amount of work to be done.
The atheist I am wonders …. how come in a Christian state people are so bloodthirsty? How come I have found sometimes more compassion in atheists' hearts than in some believers' hearts? How come a human being can wish another human being to be executed ? How come an aunt can speak like that? How come? How come? I will never understand, and when they add to their words of hate the name of Jesus, I am ashamed for all the true Christians I know, respect and love.
Today, I cannot help myself to see him always dying on that gurney. Today I fear to go to bed because I know that I won't sleep and if I do it will be with nightmares. Today I know that I will never stop the fight.
R I P Reggie … till later, Big Daddy.
-------------------------------------------------------

Myriam Stubbe is a member of the Coalition for Truth and Justice based in Belgium. She traveled to Huntsville to witness the execution of Reginald Perkins after taking part in the fight to win a stay for him on the grounds he was mentally retarded and suffered severe childhood abuse.

The Surprising Reason Harris County Is U.S. Death Penalty Capital
blogadmin | 13 January, 2009 21:56
Guest Blog
By Jim Skelton
Legal Analyst, EXECUTION WATCH
Everyone involved in the death penalty debate says Harris County is the death penalty capital of the United States. There is no need to rehash all the statistics. The issue reared its head in the race for Harris County District Attorney. As Kelly Siegler, the old-guard DA candidate, said with her defiant jaw jutted out, "This ain't California or New York City. This is Houston, Texas."
But is Houston that much different than California or New York? Are people in Houston more bloodthirsty than people in other parts of the United States? In our attempts to be politically correct and to appear fair, we ignore the fact that people in different regions have different characteristics. People on the East Coast tend to run their mouths more and yell and say terrible things to each other. Down here, we spend more time shooting each other than shooting off our mouths. We have "fighting words," and when they are uttered someone is going to bleed. On the other hand, you can insult a New Yorker's mother, his family, his priest and his family dog and probably walk away with most of your body parts intact. Down here, this isn't so.
We tend to resolve our conflicts with our fists and guns. This translates into a culture where we sugarcoat the concepts of revenge and retribution with the idea that people should be held accountable for their conduct. This is the Texas way to justify the death penalty. What we call "closure," "justice" and "accountability" are code words for revenge and retribution, even though an additional death closes nothing but another person's life.
But why Harris County? Why does Harris County send more people to death row than Dallas-Fort Worth, or San Antonio? Truth is, the most "Texas" of Texans are the people around Fort Worth and Jacksboro, and Mineral Wells. This where they will open a can of "whup-ass" and lay you out, but they still lag behind Harris County when it comes to executing people.
The answer is not complicated. Harris County's high rate of execution comes from its District Attorney's office, which files more death penalty cases than all the other counties combined. This take-no-prisoners approach has its roots in 1980, when Johnny Holmes took over from Carol Vance as district attorney.
When Vance held the office, prosecutors and their ersatz adversaries, defense lawyers, were more or less a club. They all hung out together. There were three favorite watering holes. One was the Old Capitol Club at the Rice Hotel. This was the second office of defense attorney Percy Foreman. The old-time criminal lawyers – prosecutors and defense lawyers alike – were there almost every afternoon and evening, drinking, playing gin and laughing about what was happening at the courthouse. Others hung out at the club at the Houston Bar Center, and many went to a strip club down the street from the old criminal courts building called the Club Galore. The Greeks who ran the place provided courthouse people with 25-cent beer. This attracted a crowd and kept the club from being raided.
Back then, there was no us-against-them mentality between the defense bar and the DA's office. The war was between the lawyers and the judges, not the prosecutors and the defense lawyers. This club-like association tended to make all the lawyers a bit more moderate, and there was a bond between both sides of the bar.
When Johnny Holmes became the DA, things began to change. He was more of a cop than a lawyer. Legend had it that Holmes kept a police scanner in his car when he was a student at the University of Texas, and rumor had it that he had served some time as a reserve
officer. None of this may be true, but there was no doubt that Holmes was more at home and had more in common with the police than with defense lawyers.
With Holmes in office, a shift occurred in the courthouse fraternity. Defense lawyers were squeezed out, to be replaced by police officers. The end result was that the DA's office became the law firm for the police department, and the tail began wagging the dog. That old camaraderie between the defense bar and the DA's office began to dissipate when the DA's began doing "the Lord's work," and the defense lawyers were considered to be vermin defending the netherworld.
It is an accepted fact that defense lawyers should not become involved with their clients. There is a difference in defending a person and
lying down with them, and the same truism applies to prosecutors. They should be no more embedded with the police than defense lawyers should be embedded with their clients. It is impossible to be objective and fair when people share the same bed.
This wedding between the police department and the DA's office meant that the DA's office became more attuned to a police concept of justice. It goes without saying that a system unduly influenced by law enforcement favors more prison time, more death penalties, and more punishment. This is why such systems are called police states. And this is why there is a greater likelihood that such an organization would file more death penalty cases and end up with a district attorney like Chuck Rosenthal who was more of a wannabe cop than a lawyer.
It also, as is evidenced by Harris County, leads to an unbalanced System, where the DA's office becomes an extension of the police
department and the judiciary becomes an extension of the DA's office. The only difference is the dress. Cops wear uniforms, DA's wear ugly shoes, and judges wear black robes. But beneath the clothing they are all pretty much the same. This is one of the reasons Harris County leads the nation in the number of people sitting on death row.
The remedy to this imbalance is to reestablish the bond between prosecutors and defense lawyers. This can be done by selecting judges who have worked on both sides of the bar and turning out any judicial candidate whose only claim to fame is that they put a person on death row. We should support joint training and seminar sessions and discourage the foolish notion that being a prosecutor is more noble and honorable than defending the rights of fellow citizens. The DA's office should be as cautious in dealing with the police as a defense lawyer is as cautious as getting involved with their clients.
We all want Houston to be a better city. We want to be safe and to live where people are all treated fairly and with respect. It's too soon to tell what impact the new DA, Pat Lykos, will have. A goal should be to have a system that balances the interests of security and freedom. Who, pray tell, wants to live in a place where we say with pride, "This ain't New York City or California. This is Houston, Texas, the death penalty capital of the United States."
Jim Skelton is a legal educator who has been a prosecutor and a defense attorney in capital cases. He lives in Houston.
Should More of These Photos Be Published?
blogadmin | 04 December, 2008 17:20
The venerable Texas Moratorium Network blog posted a snapshot Tuesday that surprised me.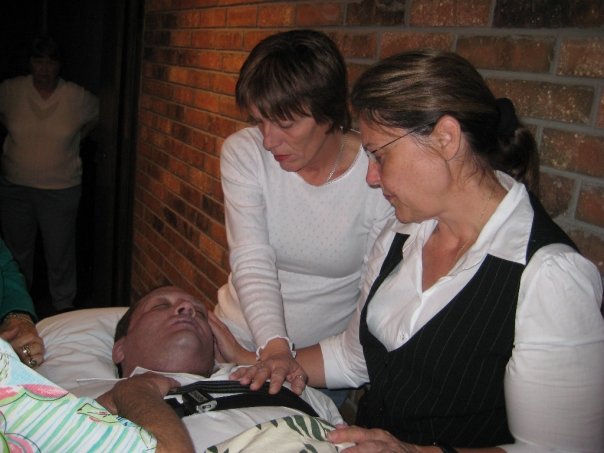 It shows two women standing over a guy. The man, clothed in white, lies face-up on a surface several feet off the floor, his eyes closed and head on a pillow. One woman strokes his face, the other his chest.
The solemn expression of the women; thick, black straps across the man's chest; grayish cast to his face, and fact that he appears to be on a gurney begin to suggest the unusual nature of the photo.
The accompanying text confirms it:
"This photo of Greg Wright 15 minutes after his execution on Oct 30, 2008, in Texas is from Bente Hjortshøj's Facebook page. She is standing on the left. She wrote this caption to the photo:
"'The first time we touched you Greg...you were still warm...you looked at peace...as though you were just sleeping and would wake up soon....it was sooooo hard to see you like this though you were finally free..this is just about 15 minutes after the execution...sooo surreal....BUT dearest Greg.....Me and Connie [Wright's widow, pictured] kept our promise to you and for that we are glad...but it was tougher than we thought.... we did it out of love and respect for you!! LOVE YA LOADS!!!!'
"Bente Hjortshøj has given permission for the photo to be distributed around the internet, 'me and Connie decided to publish all pictures to show the world the cruel and unusual punishment and its horrible consequences.'"
The photo and text are at http://stopexecutions.blogspot.com/.
I'm not sure why the snapshot surprised me. I suppose it's partly because it depicts a private moment I wasn't aware happens after an execution, at least when family and loved ones attend.
I applaud the courage of Wright's survivors in releasing such a personal photo, as well as their commitment to the cause of abolishing a policy that took the life of their loved one. I also commend the Texas Moratorium Network for having the courage and integrity to publish the photo.
Although the picture doesn't offend me, I'm aware my sensibilities may differ from others'. Is it risky to post an image that some potential – and even current -- opponents of the death penalty might find offensive or shocking?
Readers, if you have the time, I'd appreciate your comments.
For those who called up the photo, what was your immediate reaction so seeing it? What are your thoughts about circulating a photo of the body after an execution? Should it be done regularly? Not at all? What sort of impact might it have?
Cops Continue Unreliable Lineups at Own Peril
blogadmin | 02 December, 2008 01:35
By Elizabeth Ann Stein
Producer, EXECUTION WATCH, KPFT-FM
There is "nothing more convincing [to a jury] than a live human being who takes the stand, points a finger at the defendant, and says 'That's the one!'" wrote former US Supreme Court Justice William J. Brennan.
Too bad. Really. Because eyewitness identifications are so often off, they're a major cause of wrongful convictions.
Take the case of Jonnie Earl Lindsey, freed in September after spending a quarter century in Texas prisons for a rape DNA tests prove he did not commit. The jury that convicted him based its decision on eyewitness identification that turned out to be inaccurate, coming as it did from photo lineups in which police used questionable procedures.
The human misery generated by wrongful convictions like Lindsey's is painful to consider. Folks might comfort themsleves by thinking, now that the problem has been identified police are correcting it.
Folks would be thinking wrong, according to a new study by the Justice Project.
Just 12 percent of Texas law enforcement agencies have adopted written guidelines for conducting photo or live lineups, according to the Project's research on Texas criminal justice procedures. Of the few existing written procedures, many are so vague and incomplete they are of limited use.
If the Justice Project's findings stand up to further scrutiny, their significance is profound: Of the 38 Texas wrongful convictions uncovered by DNA testing, 82 percent were based largely or exclusively on incorrect eyewitness identifications.
Worse, at least one probable wrongful conviction in Texas stemming from faulty eyewitness testimony is beyond the reach of DNA testing.
Former Bexar County District Attorney Sam Millsap now acknowledges that Ruben Cantu of San Antonio may have been innocent of the 1984 murder for which he was convicted. The jury in his case relied heavily on the testimony of a single eyewitness, who later recanted,
No amount of DNA testing can help Cantu. Texas executed him in 1993.
The good news is that best practices have been developed, and proven effective, in boosting the reliability of eyewitness testimony. The bad news is that only 7 percent of Texas departments have incorporated them into their written policies. Seven percent.
How could Texas law enforcement agencies not consider it an urgent priority to adopt procedures to avoid tragic, wrongful convictions like Lindsey's? They need to wake up – slap themselves upside the head if need be – and put the best practices to work in conducting photo and live lineups.
Otherwise, they'll have no one but themselves to blame when the public's already shaky trust in law enforcement becomes so low, not even a misdirected eyewitness could detect it.
* * *
A file containing the full report, "Eyewitness Identification Procedures in Texas," is at http://www.thejusticeproject.org/wp-content/uploads/texas-eyewitness-report-final2.pdf . The Justice Project is a non-profit, non-partisan group established to improve fairness and accuracy in the criminal justice system.